Who's Buck?
When people ask me what I like most about what I do, I tell them it's getting to help people. After all, buying a car is the second biggest decision you'll make after maybe buying a home or deciding on who you want to spend your life with.
You have to understand, I'm a car guy through and through. I was born and raised in a car dealership family, dating back to my father's first store in 1972.
I even remember the first car I sold. I was home from New Mexico State University for the summer and sold a Buick Century. To this day, I remember the feeling that I helped somebody with an important decision.
Over the years, I've done just about every job in the dealership – from helping out as a porter to working in accounting. But for me, this isn't a job. It's not even a career. It's my life and it's a part of me. And it's not just me. It's this dealership. I consider it an important part of the life of this great community. Lone Star is proud to sponsor local sports teams and support Railroad Park, for example.
Today, I enjoy building relationships with people. In fact, there's one family – mom, dad, daughter, aunt, uncle – that I've sold roughly 40 or 50 cars over a 14-year period.
My customers have come to trust I will have their back whenever any issues come up with their purchase in the years ahead. There are even customers I've had over the years who have moved away, but still get in touch with me to buy a car, and I ship it to them!
So when you hear "Save the Big Bucks with Buck," you can trust I will always give you a fair and honest deal. I am proud to say my associates will do the same.
And let me share this with you about our associates. They all live in the area too. We're your neighbors who play in the parks and participate in events alongside you all around the DFW Metroplex. Our employees' kids go to school with your kids. What's more, the dollars our employees earn go right back in to the community, shopping in your stores and investing in your businesses. Knowing that we'll likely see you in the community, we all work hard to ensure a pleasurable experience that respects your time and money when shopping for or servicing your vehicle. We want you to be proud to do business with Lone Star Toyota. Your home is our home, so come in and introduce yourself!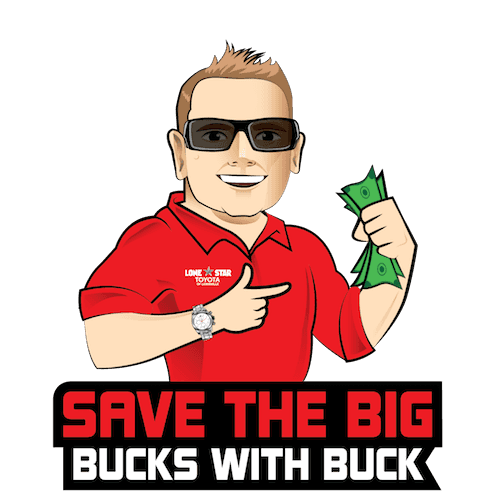 Buck Barton
Managing Partner, Lone Star Toyota