Your time is valuable, so when your Toyota or Scion needs factory-scheduled maintenance or minor repairs, don't let it slow you down. Toyota Express Maintenance from Lone Star Toyota in Lewisville, TX, offers everything you need to keep you moving. Our Toyota-trained technicians are deployed in a "pit crew" approach, to ensure your vehicle receives rapid and accurate service. At Lone Star Toyota, you can trust our team to do it right the first time!
Lone Star Toyota Express Maintenance services include:Oil & Filter Change
Engine oil is the single-most vital fluid for your Toyota's well-being because it reduces friction between moving parts and helps remove heat from the engine. The correct oil for your vehicle is marked on your vehicle's oil cap or noted in your Owner's Manual. If your vehicle requires an oil change, it will be drained and refilled, and your oil filter will be replaced with a Genuine Toyota oil filter. Your maintenance indicator light will also be reset at this time. Your maintenance schedule includes the proper engine oil and recommended replacement intervals. 
Tire Rotation
Tires play an important role in your vehicle's handling, performance and driving comfort, and can also have an impact on your Toyota's fuel efficiency. So make sure to keep your tires properly inflated and use tires that match your Toyota vehicle's specification. Tire manufacturers recommend that tires be rotated every 5,000 miles. Tire rotation is important for even tread wear and long life. When performed at the recommended times, it helps ensure that the tires wear evenly and prolongs the useful life of the tires. After rotating your tires, the technician will also reset the Tire Pressure Monitoring System (TPMS) light. This system is designed to detect a change in tire pressure.
Brake Inspection
As far as safety systems go, your Toyota's brake system is one of the most important. The functionality and safe operation of your car's braking system depends on following through with routine maintenance as outlined in your Toyota's maintenance schedule. The Multi-point Inspection performed on your Toyota will include a brake inspection. This will help to ensure that your brake pad thickness is still at a safe braking level.
Fluids Inspected & Replenished
Using the correct fluid is extremely important. During your Multi-point Inspection, all of your fluids (coolant, brake, power steering, windshield washer and transmission) will be checked and replenished at no additional charge.
Multi-point Vehicle Inspection
With your Multi-Point Vehicle Inspection, you get a thorough assessment of your vehicle by a Toyota Certified Service expert. It's fast, convenient, and guaranteed to get you in and out quickly. Our trained technicians will inspect your vehicle from top to bottom and let you know if anything needs attention now or later.  So protect yourself and your automotive investment with a comprehensive car inspection at Lone Star Toyota of Lewisville today.
Please feel free to contact our service department for more details about the Toyota Express Maintenance services we offer! Plus, stop by our Service Department any time at 1547 S. Stemmons Freeway, Lewisville, TX 75067. We look forward to serving our customers from Lewisville, Metroplex and North Texas.
If you live or work in the Lewisville, TX, area you can rest assured that servicing your vehicle at Lone Star Toyota will allow you to quickly hit the road with confidence. Contact us today to schedule your next Toyota or Scion maintenance service visit. We have the right price, provide the right quality and can do it right now!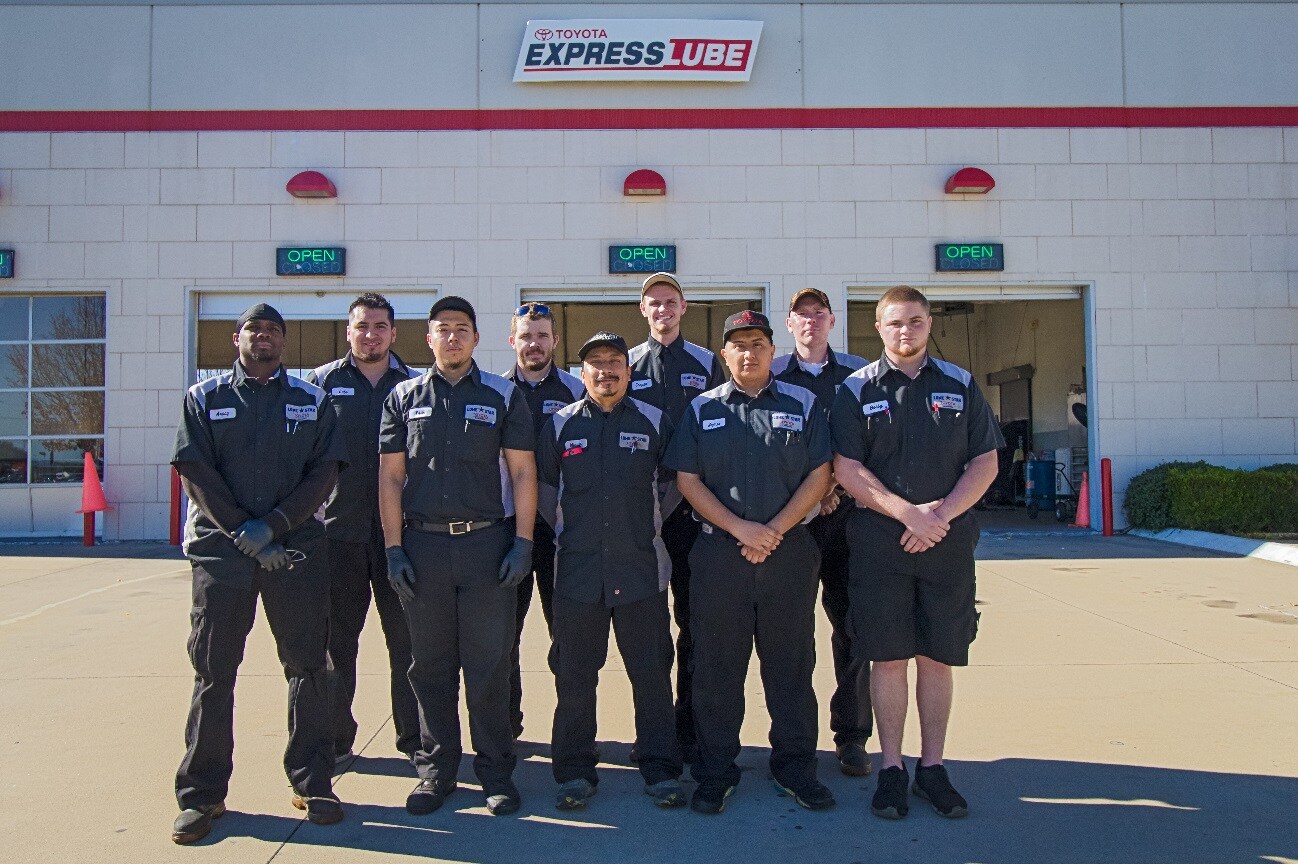 Hours
Monday - Saturday

9:00AM - 9:00PM

Sunday

Closed
Toyota Express Maintenance Process
Express Maintenance Waiting Room